Candid Forum Speakers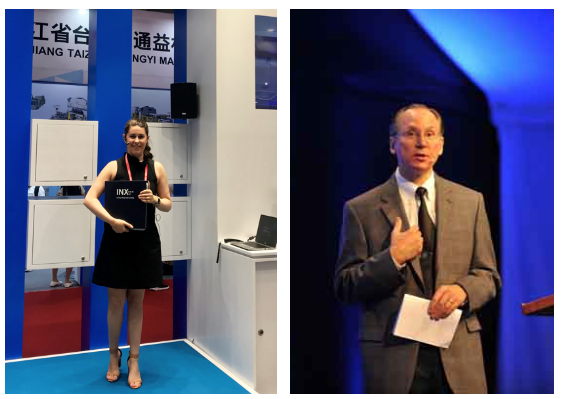 Daniel Abramowicz, chief technology officer of Crown Holdings and Sarah Jacks, project specialist of Inx International, have been confirmed as panellists for this year's Asia CanTech (29-31 October 2018, Bangkok, Thailand). The speakers will feature on the Candid Forum panel on 30 October 2018.
As Crown's chief technology officer with global responsibility for innovation and technology development across Crown's business platforms, Dan Abramowicz is responsible for new product and process design, product and process improvements, material developments, engineering, process monitoring, database development and cost reductions across the breadth of Crown's packaging products. This includes food cans and ends; beverage cans and ends; aerosol containers; metal vacuum closures; metal speciality packaging; crowns, glass bottles, and packaging equipment. In addition, Dr. Abramowicz heads Crown's EHS (Environment, Health and Safety) Organisation and Crown's Sustainability Steering Committee.
Before joining Crown, Dr. Abramowicz was a technical director in GE's Global Research Centre. In this leadership role he was responsible for innovation and technology development across GE's industrial and consumer businesses, including appliances, lighting, transportation systems, industrial control systems and electrical distribution & control. In an earlier role with GE, Dr. Abramowicz headed GE's environmental laboratory, utilising chemical, biological and physical methods to develop pioneering remediation and pollution prevention systems, as well as initiatives in green product design.
Sarah Jacks is a project specialist working in the 2-piece metal division at INX International Ink Co. Jacks leads the INX Colour Perfection team, helping provide colour management solutions for brand owners, designers, and metal decorators. She has been with INX for just over four years where she has been involved with implementing colour management programmes for multiple divisions within INX, as well as working with the INX Digital Division before turning her primary focus to metal decorating.
Jacks is a 2013 graduate of Clemson University where she earned her Bachelor of Science degree in Packaging Science, with minors in both Food Chemistry and Business. She resides in Charlotte, North Carolina.
"I am extremely honoured and excited to be a part of Asia CanTech this year in Bangkok. I know that it will be filled with valuable insight that industry leaders from around the world bring to the event!", Jacks commented