Asia CanTech 2012 – Bangkok, Thailand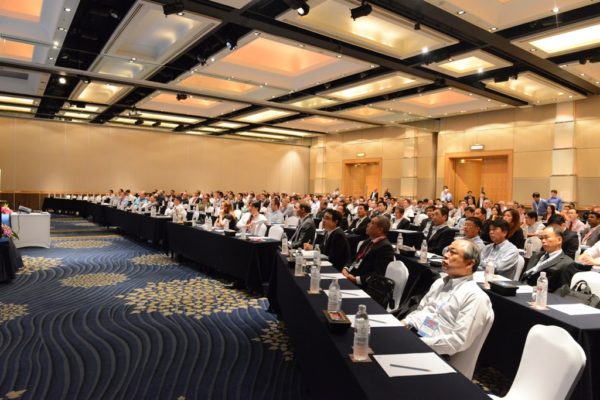 A variety of topics were covered at Asia CanTech 2012. Alec Peachey reports from Bangkok.
New technology was at the forefront of this year's Asia CanTech conference. It  was  also  interesting  to  note  the  increasing amount of investment in the region – one that continues to offer can makers and suppliers a host of opportunities. This year's event returned to the Royal Orchid Sheraton Hotel and Towers in Bangkok and took place from 29-31 October.
A total of 26 presentations took place over two days while the tabletop exhibition gave suppliers the chance to showcase their products over all three days. Keynote speaker Takao Nakai, executive director of Japanese can maker Toyo Seikan Kaisha, opened proceedings with a presentation entitled 'Evolutions of the aTULC system'.
Nakai talked about how mature and developing markets both require innovative, inexpensive and sustainable packaging.
"Metal packaging is naturally the best choice. It is unarguably the most sustainable and it is inexpen- sive," he told attendees. However, Nakai did sound a note of caution adding: "Metal packaging must become more innovative. To serve the common interests of the whole industry Toyo Seikan has made its aTULC dry forming technology available   to   all  beverage can makers. Today, any can  maker  in  the world has the option of using our eco-friendly dry-forming technology."
aTULC (Aluminium Toyo Ultimate Can) is a polyester-laminated   aluminium   can   based on the TULC concept and is characterised by its high functionality and low environmental impact. aTULC is manufactured by the direct coating  of  an  aluminium  sheet  with   molten resin. This system, eliminating  the  need  for  the usual film making process, was co-developed with Toyo Kohan, an affiliated company of Toyo Seikan. It was first commercialised in 2001 in Japan. In   2008 the first aTULC can was produced in Thailand. The com- pany started selling aTULC cans in China in 2010.
"The number of aTULC customers keeps increasing," adds Nakai. "As a result we established a can stock poly- ester extrusion coating company in Thailand in October this year. We aim to start production in June 2014. The company name is Global Eco-can Stock (Thailand). The objective of this investment is to increase our can stock supply capacity."
Toyo Seikan Kaisha completed the acquisition of can making machinery supplier Stolle Machinery last year.
"This acquistion was made with one key word in mind: innovation. In order to propel the whole industry to a new level Toyo Seikan is sharing its dry forming technology with Stolle. In the future Stolle will be able to provide the machin- ery for aTULC. The company's mission is to contribute to the happiness and prosperity of mankind through packaging technology. We believe that by offering our aTULC system to any beverage can maker in the world this is one way we will accomplish this mission," Nakai concluded.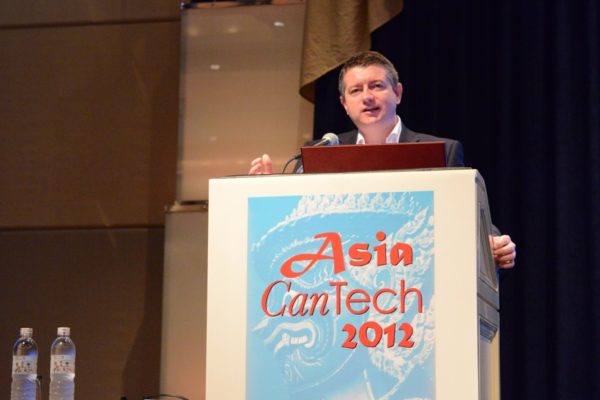 Aerosols
The second keynote speaker was Gregor Spengler, secretary general of Aerobal, the International Organisation of Aluminium Aerosol Container Manufacturers.
He described how the aerosol market has experienced huge growth, in his presentation entitled 'Growth and sus- tainability in the aluminium aerosol can industry'.
"From 2006 to 2011 there has been volume growth of 4.8 billion cans  up  to  6.6  billion cans. This is an average growth rate of 7.5 per cent. The aluminium share in total world aerosol can production is 46 per cent.
"The predominant market of aluminium aerosol cans is the cosmetic market. Seventy six per cent of aluminium aerosol  cans  are delivered to this market." Spengler    discussed   the evolution of aerosol fillings in different parts of the world.
He noted that in Europe the share of tinplate and aluminium is more or less equal but in North America the predominant material used in the production of aerosols is tinplate with a share of 78 per cent.
Spengler described the market in Asia and South East Asia as "versatile". "When you look at China there has been some dynamic growth," he says. "1.4 billion cans  are filled in China and tinplate has a share of 80 per cent. In contrast to that the Japanese market is relatively stag- nated. It hasn't performed as well as China and there has been no real growth. The share of tinplate is 56 per cent. The situation in Thailand is quite promising. From 2009 to 2011 there has been solid growth."
Spengler believes a change of consumer habits in South East Asian countries could be possible. "The cosmetics market offers opportunities. There is huge market potential for aluminium aerosols. However, consumer habits have to be changed. How can they be changed? They are largely influenced by advertising efforts of big cosmetics brands. The target must be to make use of aerosol cans more popular in these areas."
Supplier time
Amongst the supplier presentations was Amir Novini, presi- dent and CEO of Applied Vision, who talked about new vision inspection concepts and practices for modern can manufacturing.
One of the new modern concepts developed by Applied Vision is its Cyclops inspection system. Cyclops combines imaging, lighting and processing in one com- pact enclosure, eliminating the need to run multiple cam- eras on a single processor. The machine can be placed almost anywhere on a line, alerting operators of potential defects  as  early  as  possible  in    the manufacturing process.
Novini told attendees: "Vision is a powerful manufacturing tool. Don't just use it as an end of line goal- keeper. These machines are powerful and can provide crucial process information."
Patrick Geffers from Stork Prints Austria stressed the importance of a good looking can during his presen- tation entitled 'Filmless prepress: The digital strategy for the two-piece can industry'.
The company is a technology leader in direct laser engraving. This single step 'laser' process is a   purely digital means of printing form imaging. It eliminates costly products like film and time-consuming processes such as exposure, washing  and  drying,  the  company  says.
After pointing out the quality of the labels on PET water bottles that were being consumed by delegates, Geffers stated: "Usually with the two-piece can industry we have a problem in achieving this type of quality. There are a large number of designs with solid colour but we also have high-definition labels that are coming up more and more. Brand owners are asking can makers to produce this type of quality without any influence on your production. We think there will be a shift in the future."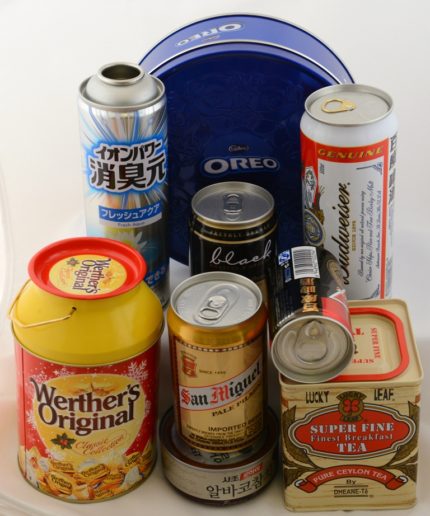 Cans are safe
Andrew Kum from Valspar, one of the largest global coatings manufacturers in the world, gave a presenta-   tion entitled 'Meeting the ever evolving  market  requirements  in food coating'.
"Metal cans are safe," he exclaimed. "They are recyclable and environmentally responsible, made  from   raw   materials   that are readily available, and provide a long shelf life without losing  nutritional benefits.
Metal cans prevent contamination by moisture, bacteria, chemical, light, gases and other  influences. They also deliver production efficiencies that help keep products costs down."
Kum backed up his claims by reciting some statistics from the Centers for Disease Control and Prevention (CDC).
"According to the CDC, 48 million Americans fall ill and 3,000 die every year from food-borne diseases. Food-borne illnesses cost Americans $77.7 billion annually. The durable structure and air-tight seal on cans offers the most robust protection against  food-borne  illnesses.  Furthermore,  the canning process itself kills off bacteria and other harmful agents, ensuring safe and nutritious food for the consumer.
"There is a general misconception that canned food is not nutritious. The Michigan State University in 2012 carried out a study comparing fresh, frozen and canned food. It found that canned food is not only safe, reliable and nutritious but also has a long shelf-life."
Michael Marschall from Schuler revealed that  the  company  has  opened a new service office in Sriracha, Thailand.
Customers in  Thailand  will  be able to enjoy Schuler's expert on- site support. The team's service programme in Thailand ranges from technical services to performance enhancements, used machines and training.
The firm also has a big presence in China. "We have installed quite a few cupping presses and impact extrusion presses in China over the last few years," noted Marschall.   "We   have   exisiting service stations in the country. Due to the amount of business we're getting in the country we plan to open new service stations in Chengdu and Changchun this year. By next year we will also have service stations in Guangzhou and Wuhan.   It is important that we have on-site service in China as it means we can support our customers quickly and also hold spare parts in the facilities."
During his presentation  entitled  'D&I  systems  for  bottle can production and advanced cupping systems' Marschall outlined the key features of a number of Schuler's products. These included the SAK Blankmaster Line, the Icon V-Drive and cupping press.
Ivan Delgado from TG Can International  introduced  the company's new cupping press – the CM2000. The company specialises in producing and supplying quality high-precision systems and tooling for can and end makers around the world.
Key features of the CM2000 include: Top speed of 300 strokes per minute; low capital cost; reduced die-set changeover time; direct drive to crankshaft; hydraulic clutch and brake; simplified maintenance; critical element monitoring system built in. "We believe this is a cupping press for the 21st century," Delgado told attendees.
In a  technical   presentation,   Jack   Knight   from INX International, talked about cost savings in metal decorating. He discussed the Pantone Matching System, or PMS, an internationally recognised standardised colour-matching  system  that  is  owned  by  the Xrite Corporation.
Knight got the audience to participate in various colour blind tests. You can read  more  about  his  presentation on page 39.
Focus on Asia
Simon Jennings, owner and advisor of Nomis Consultancy, talked  about  drivers  and  trends in the beverage packaging industry  and  opportunities   in Asia.
"According to Pira, the global packaging market is worth US$395 billion. Metal packaging has about a 15 per cent share of the market. Expectations for growth going forward, acording to Pira, are that the plastics sector will grow the fastest, followed by glass. Unfortunately metal packaging is a low growth sector," Jennings explained.
"Over the years I've come across many surveys about attitudes to packaging. The one thing I have to say is if you ask consumers in Europe what their favourite pack is they all say glass. If we look at food packaging and ask why is plastic substituting metal packaging I think part of it is to do with perception. There is a perception that metal packaging is old fashioned. There is also an issue of convenience. I think one of the things the metal packaging industry needs to focus on is the ease of opening the pack. I know there is a lot of work being done with Easy Peel, but it does create a problem for the industry. It's been shown that you can put metal packs in microwaves. That has been a problem that has been perceived but it's not real. From research most people will open a plastic pack, tip the product into a bowl and heat the bowl up. So what is the real convenience of the plastic pack?"
An example of a company that started to package its products in PET is Campbell Soup. "They drove this change to try and get soup to grow," Jennings added. "What's actually happened is people started to buy it and subsequently started to buy more cans. It ended up growing the can market as well as the plastics market.
Jennings believes that cans will come  good  in  the  end. "Usually the higher the GDP the more cans are sold. But that growth never comes in a straight line. Emerging markets are like roller coasters. You have growth, the mar- ket grows, but doesn't grow in a straight line. People are a bit worried about the Chinese market but my view is that   it will grow again. I believe with beverage and food cans that with the right marketing of the product we will see growth and a happy ending."
Day two
Keynote speaker Craig Jones, director of Rexam's new AMEA division, got things underway on day two of the conference.
The title of his presentation was 'Global strength through local collaboration'. Jones, who has previously worked in Jakarta, Indonesia, revealed that he will be based in Dubai from January next year.
Rexam operates in 25 countries and employs close to 19,000 people. "We have recently focused our commit- ment on Asia and the Middle East with the creation of our new division AMEA. We have been working in the region for many years and over this time we've built strong work- ing relationships with our clients and key partners." Jones noted. "I hope to build on the firm foundations that have been laid over previous years. We want to strengthen ties with our customers, facilitate demand and focus resources more strategically to capture our share of growth in these fast growing markets. We already have a solid footprint within this region with plants in Egypt, India and Turkey."
Jones believes that India offers significant opportunities for growth. "We have already announced that we are expanding our operation in Mumbai and that will increase our capacity to around 700-800 million cans a year. In the Middle East and Africa there are attractive possibilities for us, also. There is strong GDP growth and a relatively low take up on beverage cans. We have a presence in Asia and have developed the business over the last three to four years. "The Middle  East  region  is  quite  fragmented. We're confident the opportunities for consolidation will emerge as markets and customers become more demanding and expect an
independent supply source.  We see Asia as offering attractive growth rates. Beverage can suppliers are already investing to meet those  demands  and  Rexam will be part of that  investment.
Today, we don't directly  own  any can making facilities in  South East Asia but we're exploring oppor- tunities  for  regional  development. Asia offers Rexam a huge amount of  possibilities. I'm looking forward to working with our team to take advantage of them."
A new direction
Tony Lacey, the new owner of OKL Can Line, talked about his plans to take the company in a different direction. His presentation was entitled 'OKL – the next 30 years'.
The company is a supplier of equipment to the beverage can industry. Lacey, who has been a two-piece can plant manager at four locations, can count Rexam and Crown as past employers.
He said: "I'm from the customer side of the business and have bought products from OKL. I understand what you (can makers) have to do to perform daily in your busi- ness. We  have the experience, resources and the ability  to produce the highest quality bodymakers on the face of the planet. OKL has been known as a very good rebuilder of bodymakers. Today we're moving into an OEM (original equipment manufacturer) direction. The future is now. We have what I consider is an unfair competitive edge – being privately held. We plan to stay that way because it gives me the freedom to make decisions without pressure of the market from an investment standpoint. All decisions about investment come directly from us. We're going to move from a good to great company by doing three simple things: Quality, service and delivery. At OKL we have a simple philosophy. Two strong words are 'I can'.
Two stronger words are 'We can'. The can is our passion." Mario Werner, sales manager at IST Metz, talked about UV solutions for metal decoarting.
The company's newest UV system offered to can makers is its BLK-6. The BLK-6 is a newly developed UV system, designed to meet application requirements in rotary printing. When compared to convention- al UV systems, extraordinary progress has been made in drying performance without any increase in UV lamp out- put.  This  means  greater  productivity  with reduced operating costs, Werner explained.
A can plant move
Shu An, from Suzhou Slac Precision  Equipment, described a variety of equipment during his  presentation entitled 'Total solution for cans and ends making.' The company is mainly engaged in the easy open ends (EOE) manufacturing technology for the metal packaging industry.
Shu An was taking part in a joint presentation with Mike Calahan from  Integrated  Packaging  Solutions  (IPS).  IPS is an international  consulting  company  that  specialises  in the can making industry. It provides metal packaging manufacturers with engineering and operational improve- ment services. IPS turns technical advancements into business opportunities by providing production efficiency improvements and operational cost reduction programmes.
The company is working together with Slac on a project which has seen them facilitate the sale of a two-piece can line – Caniel Beverage Can – located in Israel to a new Chinese can maker.
"The mechanism that we have put in place is to not only provide the sale and facilitate the transaction, but also to provide the new can maker with an opportunity to use the exisiting can plant as a training facility," noted Calahan. "We will manage the relocation and the rebuilds of the various pieces of equipment. IPS and Trac will provide a revised line layout for the new location, provide materi-  als and product designs and offer ongoing operational support."
Proving that  a  variety  of  subjects  are  covered  during Asia CanTech, Christian Bretzing from Kartonfabrik, discussed layer pads for the canning industry.
The company offers layer pads, which are used to seperate and stack products, including cans. Kartonfabrik's DQ-board features  special  character-  isitics like higher bending stiffness and higher water absorbance.
Asia CanTech will move to a new destination next year – Jakarta in Indonesia. The country has a growing economy and offers a good platform for new business. One message from this year's Asia CanTech is that innovation is key, but it can also be said that change is good.
To view a full list of presentations from 2012 see page 19. Anyone interested in receiving any of the presentations from Asia CanTech 2012 should contact Katrine Kjoeller at [email protected]