Asia CanTech 2011, Ho Chi Minh City

A record at the Rex
More than 350 people made the trip to Ho Chi Minh City in Vietnam for the 2011 Asia CanTech conference.
Attendees were treated to a variety of presentations from the state of the economy to layer pads for the canning industry.
Asia CanTech 2011 took place at the Rex Hotel from 17-19 October. This year's Technical Forum team had a slightly different look to it and was well received by attendees. The Forum was presented as a review of can making fundamentals and covered all aspects of the process. Look out for in-depth content from the Technical Forum in future issues of CanTech International.
A total of 26 presentations took place over two days while the Tabletop Exhibition once again gave suppliers the opportunity to showcase their products and services.
The economy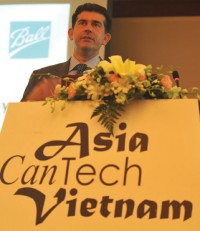 Keynote speaker Gihan Atapattu, president of Ball Asia Pacific, opened proceedings with a presentation titled 'Growing together in a difficult economy'.
Atapattu, who has worked for a number of companies including the SML Group and Avery Dennison, talked about the opportunities for growth in Asia.
"We have a unique opportunity to come together here to look at the industry and at the opportunities sitting in front of us in Asia," he stated.
During his presentation, Atapattu looked back at the economy over the last 10 years and told attendees that they needed to "anticipate what would happen over the next decade". He also pointed out that China has passed the US as the world's largest economy.
Atapattu pointed to a lot of consolidation over the last decade and added: "As consolidation continues to accelerate the players are getting big, whether that is in beverage, beer or food, and they are demanding productivity from all of us. This is not going to slow down and will continue to grow over the next 10 years."
He also talked specifically about expected growth in the beer sector and revealed that the US was expected to grow between 12 and 15 million hectolitres.
"China is not even off the ground," he added. "It will grow by 200 million hectolitres. We have also seen nice growth in Brazil and Vietnam. As beer grows and per capita consumption grows we would hope that the can share will grow."
Atapattu revealed statistics showing how only five per cent of the packaging mix is taken up by cans in China. "As middle income grows it is likely that we will be able to move can penetration into double figures," he remarked. "There will be a lot of opportunity for each of you to sell machines, chemicals, metal and for all of us to sell more cans to the market. Overall, we expect to see the beverage can market growing from 2011 to 2020 on a global basis from 280 billion cans to around 400 billion."
Despite the optimistic tone of Atapattu's presentation he also sounded a note of caution. "The can is a great product but if it becomes too expensive the growth will not materialise. We're not selling to each other and have to hope that someone on the street goes into a shop and picks up a can. For them to do that and enjoy the benefits of a beverage can they have to be able to afford it. If you look at the per capita purchasing power of China it is ranked with Angola. How many can lines are we putting in Angola? Not a lot because the purchasing power is so low. The reason we talk about Asia is because of the volume of people.
"As an industry we have to make sure we attack the price part in the right way. Labour and direct material costs keep going up for can makers and suppliers. But the Asian consumer can only spend so much. Our customers are keeping prices constant at best. This business model will break very soon. It is going to hit us like a brick wall and all of us need to start thinking about productivity and getting costs down so that we can hit volume growth targets in Asia. My plea to all of you is let's not wait for the brick wall to hit us. The Asian picture for you is building a house on a solid foundation. If we work together I think we can build this house and have a beautiful home and future together on a solid foundation."
Innovation and sustainability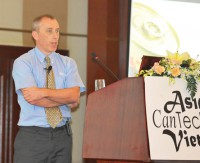 Second keynote speaker Mark Davies, business interface manager Asia Pacific for Crown Packaging, focused on 'Innovation drivers in metal packaging'.
Crown is a producer of 100 billion cans and ends worldwide. It is the third largest producer of beverage cans in the world. Earlier this year Crown announced plans to expand beverage can production capacity in all three of its existing facilities in Vietnam. The plants are located in Hanoi, Saigon and Dong Nai.
Davies said that Crown's total capacity in Asia would rise from 10 billion to 14 billion by 2013. He explained how Crown has the world's largest dedicated packaging research and development facilities in Wantage, UK and in Alsip and Lancaster in the US.
"Innovation is 99 per cent perspiration and about one per cent inspiration," explained Davies, before describing what drives innovation in packaging.
"There are many factors and these are increasing rapidly. We have to be running faster to maintain our position. There are three main factors we have to consider. These are convenience, brand building and sustainability."
Sustainability is a particularly important issue for Crown.
"This is probably the most demanding area that we have to tackle at the moment," Davies pointed out. "Metal has a very good story to tell. It is 100 per cent recycylable and in many places in Europe we achieve up to a 90 per cent collection rate. In the US it is typically 60 per cent and is increasing rapidly in Asia.
"Sustainability offers a good route for the consumer to feel good about themselves, in terms of being able to contribute to environmental activity.
"While we focus on all three of these areas, we have a challenge in meeting sustainability requirements. We need to work with our suppliers to make sure we achieve these in a cost effective manner whilst maintaining added value to our customers through convenience and brand building."
Vision systems
Bud Patel, vice president of sales at Applied Vision, discussed the evolution of machine vision. The US company produces machine vision systems for the food and beverage industry.
Patel talked about the changes in the marketplace since the company introduced its first system in 1971. Most recently the company unveiled its new Cyclops inspection system at Metpack in May. Cyclops combines imaging, lighting and processing into one compact enclosure, eliminating the need to run multiple cameras on a single processor.
Cyclops can be placed almost anywhere on a line, alerting operators of potential defects as early as possible in the manufacturing process.
"The power of one. Cyclops. That's what we call this revolutionary new product," Patel told attendeees. "It is a camera and processor all in one. Before we did this development we thought long and hard about what to do. This truly is the next generation vision system."
Patrick Geffers, sales manager graphics, from Stork Prints gave a presentation entitled 'Winning in a competitive market – A different view on the two-piece can industry'.
Stork Prints is a leader in direct laser engraving – a process that is a purely digital means of printing form imaging that eliminates costly products like film and time consuming processes such as exposure, washing and drying.
Geffers talked about how this process can help produce much better looking cans.
He discussed how he observed consumers' decisions when choosing a drink to purchase, while waiting for a delayed flight. "I wondered how they made their choice between PET, a glass bottle or a two-piece can," noted Geffers. "After 10-15 minutes I approached one consumer and asked them why they had chosen a particular type of beverage packaging? In this case it was a PET bottle. She answered simply that the label looked nice."
During his presentation Geffers showed examples of different types of packaging and stressed the importance of a good looking product.
"An important part of the decision making process is the optical appeal of the packaging," he says. "I think this is the way in which the two-piece beverage can will gain an increasing market share from other packaging types."
Starting a revolution
Marcus Greenbrook, international sales manager for GEW, spoke about UV curing and its developments and benefits.
GEW is a specialist manufacturer of UV curing systems for a range of printing and coating applications.
Greenbrook talked about how the company supplies energy efficient technology. He explained how GEW had reduced its customers' energy bills by an estimated €7 million, saving 29,000 tonnes of CO2.
One of the ways this is done is through using GEW's E-brick electronic power supplies, which are more efficient than their transformer based equivalents, explained Greenbrook.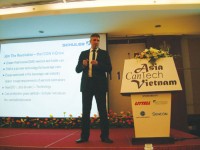 Michael Marschall, sales director packaging for Schuler Pressen, discussed the company's new vertical bodymaker in a presentation entitled 'Join the revolution – the ICON V-Drive'.
Marschall explained that the ICON V-Drive is a vertical machine for the forming of can bodies (bodymaker) which boasts compact dimensions, extremely low material consumption and the possibility to process recycled materials.
It can be used for the production of aerosols and bottle cans.
"We have received three orders for the ICON Vdrive and we're working hard to finish the prototype," says Marschall. "Sustainability is an important issue for can makers and their customers. DWI technology has been around for a number of years in the beverage can industry. The equipment from the beverage can industry doesn't meet the requirements for the aerosol or bottle can markets. That is why Schuler has developed this new machine."
Transformation
James Finn, vice president global parts and service for Stolle Machinery, gave a presentation entitled 'One Stolle, the challenges of corporate transformation'.
Shortly before this year's Asia CanTech it was announced that Japanese can maker Toyo Seikan Kaisha is set to buy Stolle Machinery Company for approximately US$775 million (59.7 billion yen).
Before making reference to this, Finn told attendees about some of the other changes that have taken place at Stolle. "About a year and a half ago we had to think about what I refer to as 'embracing the world'. We were totally US based with a small division and office in Brazil. We had to look at developing a stronger presence outside the US, especially with our spare parts and service business."
Finn explained how a new management team was put in place along with a five-year strategic plan. "We formed three organisation structures around what we call 'One Stolle'. We found that some areas of the company were very customer friendly while others were perhaps more focused on manufacturing excellence and the bottom line. We had to address that and put in place what we call a global solutions team."
Finn revealed that the company is planning to build a new manufacturing facility in Vietnam next year.
In a direct reference to the proposed takeover by Toyo Seikan, Finn added: "We view it in a positive light. We see Toyo Seikan as having a strong presence, particularly in Asia Pacific. Stolle has strong links in the US, Europe and the Middle East so we see it as a good mirage."
Metal matters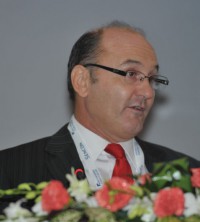 Final keynote speaker Robert Zanetto, business development director Metal-Asia for Ardagh Group, spoke about the company and the importance of sustainability.
Zanetto revealed that Ardagh (formerly Impress) has invested €440 million in research and development over the last five years.
He told attendees that the global market for metal packaging will grow to US$165.4 billion by 2021. According to Zanetto, this expansion will be driven by wealth increasing in emerging markets.
In Asia Pacific, Zanetto displayed statistics that showed how food packaging is made up of approximately 640 billion units, and of that only 12.9 billion units are metal.
"There is room for improvement and that's why we are here," he observed.
Talking specifically about the Vietnamese market, he said there had been a six per cent increase in the metal packaging market between 2010 and 2011.
Zanetto was keen to stress the importance of sustainability and the infinite recyclability of metal. "Metal will only be lost on this earth if we send it on a rocket to the moon," he says.
He described how metal packaging can help prevent food waste and in turn help those living in hunger.
"One billion people in the world live in hunger yet a third of food is wasted. Packaging has many functions, the first one is to prevent food waste. Let's work not just to please the boss, but to please the planet."
Johan Jonkman, international sales manager at VMI, gave a presentation entitled 'VMI process systems: A clean and green future'.
He talked about the recent expansion of the company's plant and offices in Yantai, China. An assembly hall with a footprint of 7,200m2 was completed in August and increases the size of the VMI Yantai facilities to almost 30,000m2.
The can making equipment supplier specialises in can washers and dry-off ovens. Jonkman paid particular attention to the company's latest generation dry-off oven.
"Energy is key in this business. We have managed to bring the energy consumption down considerably, generating savings on operational costs that are quite substantial. We can reduce the gas consumption by around 50 per cent compared to traditional ovens."
Coatings and lubricants
Gao Bing from Henkel talked about the company's presence in Asia and around the world. Henkel is a leading supplier of can making lubricants and cleaners to the two-piece can industry.
Bing highlighted Henkel's product line and stated that the company is a full front-end provider from post lube, cup lube, coolant to washer.
"We have a new generation of Henkel lubricants and cleaners working together to optimise the front-end process," he told attendees. "For the can surface, can forming lubricants have been developed to optimise the cleaning process while enhancing the line performance. This improves bodymaker performance and improves can cosmetics."
Mark Novotny from Nordson gave a presentation entitled 'New developments in controlling the inside spray process for cans'.
Nordson is a leader in providing complete system solutions for applying and curing adhesives, sealants, lubricants and coatings to two and three-piece cans.
Novotny talked about the company's worldwide presence. "We have offices and manufacturing in more than 30 countries throughout the world," he stated. "About 33 per cent of our business is in the US and Americas, around 33 per cent is in Europe while the other third is in Asia-Pacififc and Japan."
Novotny described how the company is directly serving the Vietnamese market and added: "We have an office in Vietnam. The company that represents us is CNCD and they are located in Ho Chi Minh City."
The issue of Bisphenol A (BPA) is never far from the surface these days and was tackled by Michael Ruben from Schekolin in his presentation 'Challenge BPA (free) powder for metal packaging'.
Schekolin is a provider of solvent based and powder coatings for metal packaging.
Ruben talked about the advantages and disadvantages of powder coatings and warned that the metal packaging industry needed to start thinking about alternatives to BPA.
"There is no clear decision from the FDA (Food and Drug Administration) that it should be banned. In 2010, Canada banned BPA and just a few days ago France said they will ban it until 2014. This is a fast running thing and the problem is that many countries have their own regulations. Some trademark owners want to ban BPA and don't want to wait for the FDA to make a decision."
Asia
Tim Yeates from Sencon gave a presentation entitled 'Inspection and measurement systems – A look into the future'.
Sencon manufactures sensors, line controls, test and inspection equipment, and quality assurance gauges for the metal packaging industry.
Yeates revealed that the company has recently opened a facility in Manilla, Philippines. He said: "This shows that Sencon really takes the Asian market seriously and shows our continued commitment to the area."
The overriding feeling to be taken away from Asia CanTech 2011 is that the region is booming. Vietnam itself is an emerging market and on the evidence of this year's conference it is not being ignored.